*This Article May Contain Affiliate Links* See our Affiliate Disclosure for more Info
I have been giving a lot of thought to herbal infusions lately. Not just for articles and content and this little website in general. But thinking about them in broader terms.
For example, the other day I was writing an article on an herbal flower tea and it got me thinking. Just how many herbal teas made from flowers are there.
Technically you can make tea out of any flower or plant really. An herbal infusion is simply a part of the plant steeped in water. But I wanted to know how many are really recognized as safe to drink and make.
From there I narrowed down the list to ones that were readily available in some capacity. Meaning you could find them without much trouble.
What that left me with were a couple of dozen herbal flower teas that I needed to try out. Some I had experience with others not so much.
So over the course of the next week or so I tried out the ones that I was missing and decided on keeping 17 on this list. I hope you enjoy the list and find something that you will really like here.
---
Blue Lotus Flower Tea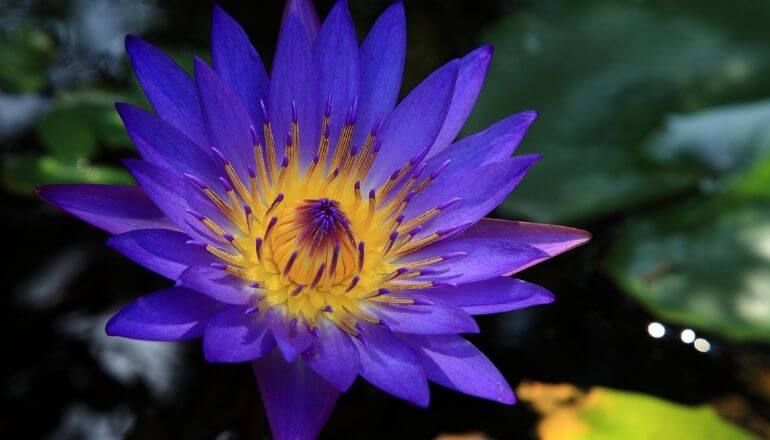 Anima Mundi Blue Lotus Tea is quite the mouthful to say and it is an interesting tea, to say the least.
When dried and smoked the Blue lotus flower can actually get you high, but steeped in tea there is no danger of that.
You can buy dried lotus flowers at many herbal stores and places like Amazon. It is not a controlled substance so no need to worry about it. Although there is a lot of misinformation online about this particular herb.
Steeping Blue Lotus Tea
You'll want a solid 10 minute steep for this tea.
Boiling water is the way to go here. 212°F.
You want about 2 grams of Dried Blue Lotus flowers for a nice cup of tea. About 10 grams for a full kettle.
Don't get scared off by some of the negativity surrounding this misunderstood herbal tea. It is a real delight to drink.
You don't want to miss out on something this nice over a misunderstanding about the difference between smoking this plant and steeping it. You can Anima Mundi Blue Lotus Tea on Amazon.
---
Butterfly Pea Flower Tea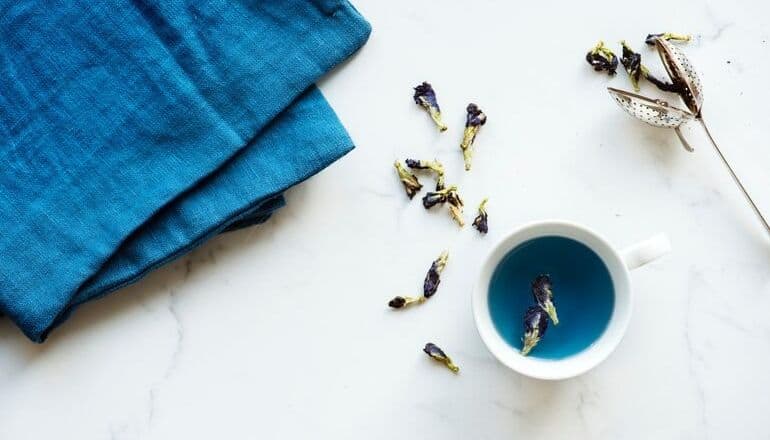 Butterfly Pea Flower Tea, or blue tea as it is widely known, is among the most incredible teas around. And it is one of the most fun at parties.
Just adding a little lemon juice changes the vibrant blue tea to an incredible purple. You can make some great drinks that will wow your guests with this little trick. Here is my full flavor profile for blue tea.
As far as the taste of blue tea goes, it is quite good. You can read my article here to get a full insight into the flavor profile of this outstanding tea.
Steep Information for Blue Tea
A solid 5 minute steep is what I find to be Ideal
Boiling water is fine for this tea – 212°F
A teaspoon of butterfly pea flowers should do nicely
Another tea that looks as good as it drinks.
It does have some similarities to green tea in terms of its overall taste, but I think it has a little bit more earthiness to it. My favorite is Zi Chun Teas Blue Tea (check the price on Amazon).
Be sure to check out our great big guide to blue tea, it has tons of info about this wonderful herbal tea.
---
Calendula Tea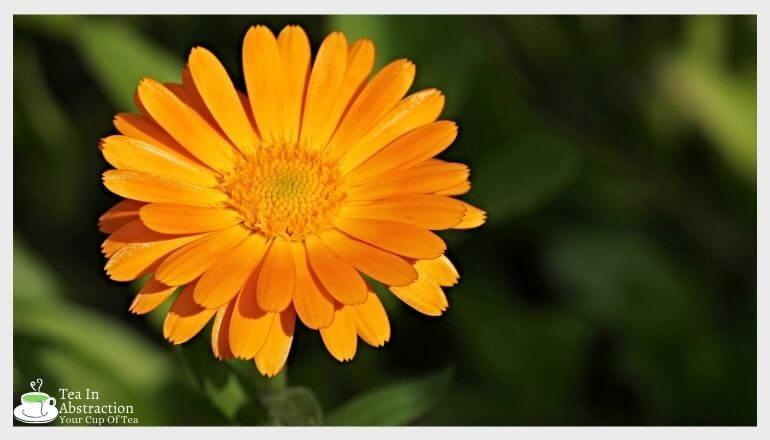 Calendula can be found growing naturally in most of North Africa and large parts of Asia and the Mediterranean. It can grow in many temperate regions and many people all over the world grow it locally.
Calendula is sometimes referred to as a Marigold. And there are thought to be around 20 different species of the plant(source).
The dried flowers of the Calendula plant are the parts used to make Calendula Tea. Check out my article on the taste of Calendula tea.
Calendula Tea Steeping Instructions
7-10 minutes is a good range for the steep time.
The temperature should be near-boiling. Around 212°F.
I like to use 2 Teaspoons, although 1-2 Tablespoons seem much more common.
Calendula Tea is definitely an acquired taste. It has started to grow on me a little as I finish up my most recent bag of this herbal tea. It is still not anywhere near the top of my list but many people will love it.
Give it a try and see if you are one of the ones that will fall in love with this interesting herbal infusion. Buddha Teas Organic Calendula Tea is a great calendula flower tea for you to discover.
---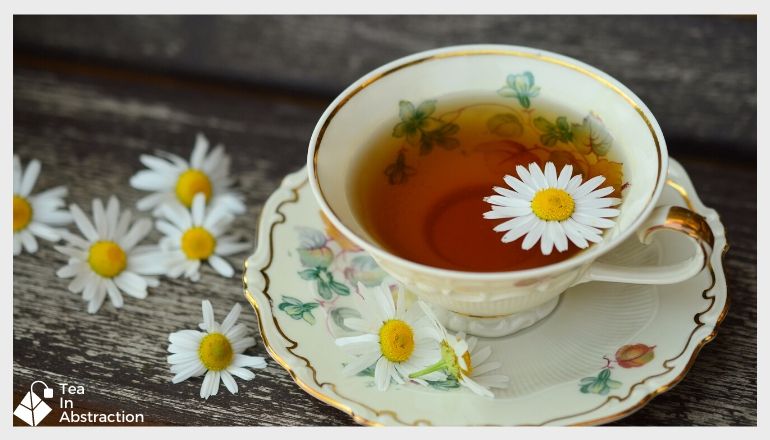 Chamomile Tea
Chamomile comes from all over Europe, Asia, and India. It has also become quite common in the United States as well.
Chamomile tea has grown in popularity as herbal teas have become increasingly popular, especially in western countries. Chamomile tea has been a mainstay of Asian and Middle Eastern cultures since ancient times.
Chamomile Tea Steeping Instructions
A 7 Minute covered steep is a great place to start for your cup of Chamomile.
Boiling Water Is Good For Steeping Chamomile Tea. Around 212°F/100°C.
2 Teaspoons of dried Chamomile flowers are the perfect amount for a great cup of tea.
Chamomile is an incredibly popular herbal infusion. Its greatest claim to fame might be its ability to calm and induce sleep in many people.
But, first and foremost, it is just a very good tea to drink. Check out our article on its flavor profile here. Chamomile tea and honey make a great nightcap and a wonderful way to start your journey to dreamland.
My favorite chamomile tea is this loose-leaf offering from Buddha Teas. Give it a try I think you will like it as much as I do.
---
Chrysanthemum Tea
Chrysanthemum tea has been around for centuries. It has been used as a remedy since ancient times in East Asia and the surrounding areas. China, in particular, has used this flower for hundreds of years.
This flower-based infusion has a wonderful yellow hue to the tea. The infusion is made from the dried flowers of the plant. It is often credited with calming your nerves and helping with anxiety(source).
Although much more study is needed to discover the full effects of this herbal tea, it is still sold as a herbal remedy for many anxiety-related issues.
You can read all about the flavor profile of chrysanthemum tea in my article here.
Chrysanthemum Tea Steeping Instructions
An 8-10 minute steep is what works for me
The water temperature should be a little below boiling. 203℉ is just about right.
A single full flower will give you the best cup of tea.
Overall, this is not one of my most favorite herbal infusions. It is not bad. It is just pretty average. This is one of the worst places to be. Either be great or fail spectacularly.
But that is just my opinion. Many people love this tea and there are some good examples of it that you can pick up to try it out. The best of the bunch is this Chrysanthemum tea(*affiliate link) from Starwest Botanicals.
---
Dandelion Flower Tea
Not to be confused with Roasted Dandelion Root tea, dandelion flower tea comes from steeping the dried leaves in boiling water. As a result, the flavor profile of the two is very different.
Dandelion Leaf tea is sweet and mild and some would say pretty bland. There is a bit of earthiness and a touch of floral flavor to it. It is definitely an acquired taste. One that I have not fully embraced yet.
Steeping Dandelion Flower Tea
A 7 minute plus steep is what I use for the steep time
212°F water temperature seems to work well for a cup
1 single bag, I could not find loose leaf dandelion flower tea. Be sure you are getting the right dandelion tea. It is easy to mix this up with Roasted Dandelion Root tea.
A slightly sweet and fairly mild herbal infusion when all is said and done. I am pretty neutral about this particular herbal tea. Be sure to check out my full flavor profile of dandelion flower tea right here.
It doesn't excite me, but I don't dislike it either. Give it a try and see what you think of it. Buddha Teas Organic Dandelion Leaf Tea is a proper herbal infusion and a great place to start for new dandelion leaf tea drinkers.
---
Elderflower Tea
Elderflower tea has one of the most unique and interesting flavor profiles out of any tea on this list. The aroma of the dried flowers is thick and pungent, but it is the flavor of the tea that is the centerpiece of this little gem.
There is a little peppery undertone with a wonderful floral flavor that permeates the entire experience.
But then you add in what I would consider a bit like a vanilla flavor, not as strong as the real thing and a slightly creamy note as well. Some describe it as a buttery note but I am not sure that does it justice.
You can check out my full flavor profile on elderflower tea right here.
Steep Infor For Elderflower Tea
A 5 minute covered steep should give you the taste you want.
Slightly under boiling seems to work best. Around 205°F.
2 teaspoons of dried elderflowers are the best way to go here.
This is an incredible tea. If you have not tried it I highly urge you to do so. Not everyone will enjoy the complex and unique flavors here, but many of you will not want to miss out.
Check out my article on how to get a perfect cup of elderflower tea every time.
Starwest Botanicals Elderflowers (*affiliate link) make a fantastic cup of elderflower tea.
---
Hibiscus Tea
Hibiscus Tea is a beautiful tea with a lovely red color to it. The taste is floral and fruity. It is becoming one of the most popular herbal infusions in the western world due to its plethora of benefits.
The tea is made by steeping the dried flowers of the Hibiscus plant in boiling water. You can find it in many stores around the world as it has moved more and more into the mainstream. Check out my full flavor profile of hibiscus tea here.
Suggested Steep Info For Hibiscus Tea
A steep time of around 5 minutes should work great.
I recommend a 212°F water temperature for this herbal infusion.
1 teaspoon of dried hibiscus flowers should do the trick.
Hibiscus is a great herbal infusion to drink at just about any time of day. It is easy to find in stores and in many tea and coffee shops around the world. Making it readily available for most people to try.
If you still haven't given it a taste then I recommend Buddha Teas Organic Hibiscus Tea. It is the best Hibiscus tea that I have tried. Give it a whirl and see if it works for you.
---
Honeysuckle Flower Tea
Honeysuckle tea doesn't taste like fresh honeysuckle that you may be familiar with from your childhood days. It does not have quite the honey flavor of a fresh flower.
What it does have is a smooth, slightly sweet and pretty floral taste to it. Honeysuckle tea works great as a hot tea but really comes into its own when mixed with other teas and the poured over ice on a nice summer day.
A brisk and smooth herbal and one of my favorite iced teas as far as herbal tea goes. It is particularity nice when mixed with a black tea, you can find some other ideas to add to black tea in my article here.
How To Steep Honeysuckle Tea
4 to 5 minutes works great for this tea
I like to let the water cool to about 200°F before starting my covered steep.
A teaspoon of dried flowers work perfectly for a 10 oz cup of tea
Starwest Botanicals Honeysuckle Flower (*affiliate link) makes for a great cup of honeysuckle tea.
---
Hops Tea
Hops Tea is something different. It does not taste much like beer at all. This tea is incredibly bitter. But not in a bad way. It is invigorating.
It is one of the most bitter teas I think I have ever had. A lot of it has to do with modern hops, they are grown for beer. You can check out my full flavor profile of hops tea here.
Honey makes this tea a nice experience for just about anyone, however. I usually don't like to add a sweetener to my tea but in this case, it is not bad. Honey is my go-to but agave works fine and if you're in a jam sugar is ok.
How To Steep Hops Tea
5 minutes is a good steep time.
Boiling water (212°F)
2 teaspoons is a pretty good place to start, but I tend to use a bagged version of this tea.
Hops Tea is an experience. It really is a unique tea to try. I don't think it tastes like beer. Buddha Teas Organic Hops Tea is One of the best hops teas around. Give it a look if you want to try it out.
One other tip, if you use loose hops flowers, a french press works great for making the tea.
---
Jasmine Tea
Jasmine Tea is a little different for this list. It is often mixed with green tea or white tea to get a wonderful blended tea.
I have not had pure jasmine tea, and I have not been able to find it anywhere. But jasmine green tea is one of the most popular types of green tea the world over.
You can check our article on some of my other favorite green teas right here.
Steeping a Cup Of Jasmine Green Tea
3 minutes is all you need for the perfect steep.
You want to let your water cool to about 180°F
2 teaspoons is a great amount to get your cup of tea full of flavor.
I debated whether or not to add this to the list. Technically this is green tea. But I felt like it was flowery enough to put it in. This Jasmine Green from Buddha Teas is one of the best I have had.
---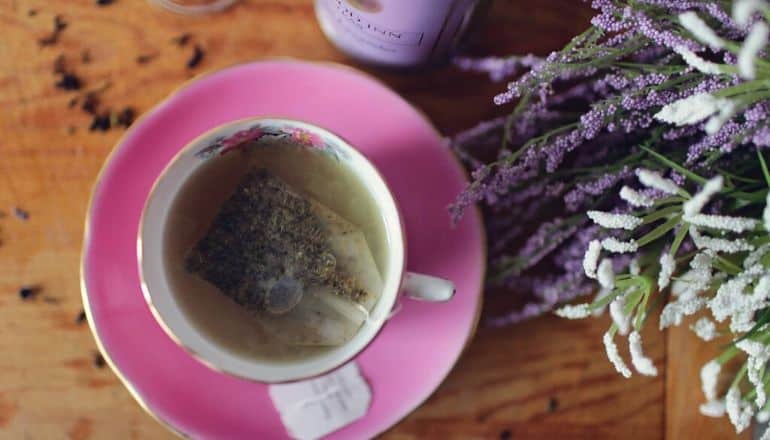 Lavender Tea
I really love lavender tea. Just everything about it. The floral taste is one of the most interesting you will ever taste.
It really tastes a lot as it smells. Lavender tea has such a soft and gentle aroma that carries right into the taste of this exquisite tea. You can read our article on the overall flavor of lavender tea right here.
The tea itself is made from the lavender flowers. Typically the leaves of the plant are used more for cooking. You can find good lavender teas just about anywhere. They are very much a mainstream tea at this point.
I am partial to this Lavender Tea from Buddha Teas (*affiliate link). It is simply one of the best I have tried.
Steeping The Perfect Cup Of Lavender Tea
A Steep time of about 5 minutes is usually enough for me.
The temperature I use is just under boiling. Around 205°F.
A teaspoon of dried Lavender flowers works wonders.
The perfect steep will give you a wonderful cup of tea. As long as you do not over steep you will not have that much bitterness in your Lavender tea.
You might take a while to drink it because the aroma is so soothing and satisfying that you will want to keep your nose buried in your cup for quite a while.
---
Linden Tea
Linden Tea comes from the Tilia tree, called linden in Europe and basswood for the North America Variety of the tree.
It is also known as the common lime tree although it is not really related to the lime fruit-producing tree(source).
The flowers of the linden tree are the parts that are used to make this herbal infusion.
How to Steep Linden Tea
I like about a 5 minute steep for this tea.
Boiling water works well for this hearty tree flower. 212°F
2 teaspoons of dried Linden flowers are all you need for a great cup of tea.
This tea is a real joy to drink. It is smooth and delicious. The flowers have a wonderful smell and the tea is floral and sweet as well. You check out our full overview of the flavor of Linden Flower Tea here.
Linden tea might not be the most well-known herbal infusion but it is among the best I have tried. You can find a great example of Linden Tea at Buddha Teas.
---
Osmanthus Flower Tea
Osmanthus Flower tea comes from the Sweet Osmanthus flower that is native to Asia. It can be found growing across Southeast Asia and in southern Japan(source).
This tea has become pretty popular in the west and can be found at many large supermarkets, such as Wal-Mart, in the United States. Typically the flower buds are used to make Osmanthus flower tea.
You can check out our full flavor profile of osmanthus flower tea in our article here.
Osmanthus Flower Tea Steeping Instructions
I recommend a 5 minute steep for your normal size cup of tea. Covered of course.
A lower temperature is useful for this tea. Around 190°F should work well.
1 or 2 teaspoons should work well. I tend to go with only one but many people like to double up. Choose the one that works best for you.
This is really a diamond in the rough as far as teas go. The taste is smooth and rich and the aroma when you open a bag is worth the price of admission by itself.
It is delightful. I find this Osmanthus Tea to be one of the best (*affiliate link). You can check it out on Amazon.
---
Passion Flower Tea
I enjoy passionflower tea. But I don't love it. The earthy flavor is really the one that comes through for my taste buds. There is little to no natural sweetness. I don't think adding honey really helps this tea along.
I drink it straight up and it's fine that way. I don't think there is any way to make it any better with just a sweetener. There are some great flavors you can add to it to make it taste really special.
Check out my full taste profile of Passionflower tea here.
Passion Flower Tea Steeping Suggestions
7 minutes is enough to get a nice flavor for your tea.
Slightly Under the Boiling point is a good place for your water temperature. About 205°F.
A couple of teaspoons is all you need for your Passion Flower Tea.
Not my favorite herbal tea by any stretch. Maybe some of you will find it to be a much better cup of tea than I did. If you want to try it out Buddha Teas has a great Passion Flower Tea.
---
Rose Tea
It smells like roses. The scent of a fresh bag of dried rose petals is quite the experience. Their fragrance is renown as one of the most delightful aromas in history.
And the tea is quite good as well. It is floral as you would expect. It tastes almost exactly lie the rose smells. It is quite extraordinary really.
The leaves have been added to dishes for centuries and their delicate floral flavor adds to just about any food pairing.
But when steeped they give you a beautiful pink liquid that is an absolute joy to drink. For an in-depth look at the flavor of rose tea check out our article.
Steeping Instructions for Rose Tea
I like about a 5-7 minute steep. You'll need to experiment a little to get the perfect time for yourself.
Around 205°F seems to work great for me.
A couple of teaspoons or bulbs is the right amount for my cup of tea.
If you have never had a cup of rose tea then I would put it on your to-do list. There are not enough superlatives for this tea. By itself it is wonderful, add a little vanilla bean or ginger and you have something really special.
This Dian Mai Red Rose Bud Tea (*affiliate link) is a cut above the rest. You can find it on Amazon.
---
Yarrow Tea
Yarrow grows just about anywhere across the northern hemisphere as long as the temperature is pretty temperate. Yarrow tea is filled with quite an array of vitamins and minerals.
The taste of yarrow tea is pretty bitter. You can cut the bitterness with a bit of honey or similar sweetener.
I don't mind bitterness in this tea, but frankly, there is little else to this tea. A bit of earthiness and a touch of floral but other than that it is pretty basic.
Interesting but basic as far as the flavor goes. The aroma is quite strong so be prepared when you get your first whiff.
Steeping Yarrow Tea
I like at least a good 5 minutes of covered steeping to get the most out of a yarrow infusion.
205°F water temperature works perfectly
2 teaspoons seem to be the recurring theme for flower herbal infusions
Not my favorite flower tea, but it is not terrible. If you like bitter tea then this might be up your alley. I think it is just a little bit of a letdown. But I did drink it right after a rose tea. Buddha Teas Yarrow Tea is the best example of this interesting tea.
---
What To Look For In A Flower Herbal Infusion
There is no hard and fast rule for what to expect when you go to buy a flower herbal tea. Each tea is going to have different characteristics that you are going to need to be aware of beforehand.
The common threads are to be on the lookout for any rotting smells in your tea. Especially if you are ordering for delivery. If your tea gets damp it can spoil very quickly.
Most teas will ship in protective packages but be sure to inspect your tea when you get it home. Look for full flowers and minimal broken pieces or powder in your bag of loose flowers.
Teabags are usually fine but the pieces of the flowers will be broken down more than a loose-leaf product.
Know what you are ordering, particularly the flavor profiles of the teas, we have a few articles for many of these teas on-site here if you need to know what to expect. I am adding more as quickly as time permits.
The Big Finish
That brings us to the end of our look at some of the best flower herbal teas you can try right now. I will continue to update this list as I find and try new flower teas that I think would fit into this article.
Hopefully, you find something on this list that you will enjoy. You will probably not like them all, I certainly have my favorites, but they are all worth a try once.
Maybe you will find your new favorite herbal tea from a flower. Or maybe it will be from a root, or a seed, or maybe just a plain old tea tree.
---
Thanks for stopping by and have a wonderful day.