*This Article May Contain Affiliate Links* See our Affiliate Disclosure for more Info
Hello everyone and welcome. Chamomile tea is ubiquitous with a good night's sleep. So I thought I would take a look at some of my favorite chamomile teas and chamomile tea blends and come up with a solid list of some of the Best Chamomile Tea Brands For Sleep.
People have been drinking it for centuries because of its relaxing soothing flavor. These chamomile teas can, of course, be drunk as just another cup of tea anytime you want
But I find them to be excellent examples of bedtime tea that are just a cut above your typical cup of chamomile tea.
If you don't feel like reading the whole article my favorite Chamomile Tea Brand For Sleep is Buddha Teas Organic Sleepy Temple Tea.
I think it is important to add that the majority of this list is made of chamomile tea blends over a pure cup of chamomile tea.
There is some variation among chamomile tea brands, some are definitely better than others but a whole list of just pure chamomile teas might get a little boring and redundant.
I have included 2 pure chamomiles teas that I think are a cut above the rest but all the other entries will be blends from a variety of brands. I hope you enjoy it.
Let's Jump Right In.
---
#1 Buddha Teas Organic Sleepy Temple Tea
Buddha Teas is one of my favorite places to get herbal tea. They have a huge selection of herbal infusions that are often well outside the mainstream with flavors derived from tree barks and seeds and flowers and anything else you can steep.
They can really expand your perception of what an herbal tea can be and you will find many interesting flavors in a convenient teabag that you might not find elsewhere.
Buddha Teas does have a straight chamomile tea but I find the Sleepy Temple blend to be much more flavorful and one that will relax you and put you to bed in no time.
Check out the wonderful Buddha Teas Organic Sleepy Temple Tea for yourself and see if it makes the grade as a great chamomile tea for helping you get to sleep.
The Sleepy Temple Flavor
Sleepy Temple Tea is not your standard chamomile tea. While there will be some examples of pure chamomile tea on our list I wanted to start with a great chamomile tea blend.
I think a good tea blend can be more approachable for a new tea drinker and will often have a smoother finish because of all the parts that make the herbal tea blend.
Here are the flavors that Buddha Teas packs into their Sleepy Temple Herbal blend…
Lavender Flowers
Chamomile Flower
Licorice Root
Skullcap
Spearmint
All of the ingredients above are organic herbs.
The Mint Flavors Of Lavender And Spearmint
Let's tackle the mint flavors first. Spearmint adds a cool minty flavor to the tea, but lavender also has a bit of a mint flavor as well. Lavender is a member of the mint family after all.
Lavender and chamomile tea are often mixed together. you can find quite a few examples of chamomile lavender tea in a packaged form at your local store.
These both give the blend a little more kick than a typical cup of chamomile tea. The lavender also brings its tell-tale floral flavor to the herbal blend but it is more subdued than a cup of straight lavender tea.
Licorice Root Smooths Everything Out
The licorice root brings a natural sweetness and smoothness to the blend. The inclusion of licorice root into this blend might prove divisive for some. If you like licorice flavor then you will appreciate the addition if you don't it could ruin the entire blend.
I think it works well by smoothing out the natural earthy and slightly bitter flavors of the chamomile and lavender flowers but not so much that it overwhelms the balance of the tea.
The Skullcap Flavor(Or Lack Thereof)
That leaves us with the skullcap, which I find to be an odd addition. The flavor profile of skullcap tea is earthy and bitter. It does not really resonate in this blend.
The licorice and mint flavors work to smooth out its bitterness and earthiness. I don't really taste it all that much. I think it was probably added for the skullcap health benefits and not to affect the overall flavor.
Sleepy Temple Is A Bagged Tea
Sleepy Temple Tea is a bagged tea so you don't need to worry about using a tea infuser or measuring out specific amounts of tea.
Typically I prefer loose-leaf but when you are dealing with a tea blend with more than a couple of ingredients I find it much easier to use bags or a prepared loose leaf blend. Trying to get the balance right with a bunch of ingredients is going to be tough until you get the hang of it.
Closing Thoughts On Sleepy Temple Tea
Overall, Buddha Teas Organic Sleepy Temple Tea is a flavorful departure from a simple cup of chamomile tea. The blend is smooth and refreshing and the added flavors bring the entire blend into sharp relief.
The licorice flavor in particular makes this a great chamomile tea for sleep by smoothing out the entire tea and make it that much more drinkable. A great option if you need a little bit more from your bedtime chamomile tea.
---
#2 Culinary Teas Bamboo Chamomile Tea
The next tea on our list is a little outside the box. It still has that great soothing chamomile that will help you get a great night's sleep but on top of that is the bamboo leaf tea. Bamboo tea has a ton of silica which helps promote healthy hair and nails.
This is the kind of blend that not many people are thinking about right now but I think it will become pretty popular in the near future. Fortunately, there are a few places to get a packaged version of this tea.
You can get one of the best loose-leaf organic chamomile bamboo teas from Culinary Teas. And of course, you can make a cup using dried bamboo leaf and dried chamomile flowers if you want a tea with only bamboo and chamomile.
The Flavor Profile Of Bamboo Chamomile Tea
I am going to be taking a look at the Culinary Teas Bamboo Chamomile tea, it has a couple of added flavors that I think make the whole experience and little more tasty. This blend will be much easier for a new tea drinker to swallow as well.
Here are the flavors in this chamomile blend.
Chamomile Flowers
Bamboo Leaves
Pineapple Pieces
Cornflower Petals
Let's break it down and get to the root of this complex and refreshing flower herbal blend.
There is a grassy undertone to this tea. It mainly comes from the bamboo leaves which have a subtle grassy flavor in their own right. However, it is not as pronounced in this herbal blend because of the other ingredients that have been added.
The chamomile brings its floral and slightly earthy flavor to the blend. However, like the bamboo leaves, it is somewhat subdued as well. I think it is really down to the pineapple pieces that both of these flavors are not more prevalent.
The Pineapple Flavor Shines Through
That doesn't mean they are not there they just have to share the spotlight with the pineapple flavor. I think the fruity pineapple flavor adds a refreshing and slightly sweet flavor note to the infusion.
If you are not a fan of pineapple then I would recommend passing on this particular chamomile blend because it is very noticeable.
It also compliments the rest of the tea quite well and while it does push the other flavors a little to the background it does not eliminate them.
Smooth And Refreshing
When you put it all together this is a very smooth and refreshing herbal tea. Chamomile tea can be a bit offputting for some people, especially new tea drinkers.
But this blend takes most of the earthiness and flowery medicinal flavor that is common to chamomile tea and smooths it right out. What you are left with is a fruity tropical tea with a grassy floral undertone.
This is a Loose-Leaf Tea
You will need an infuser or a teabag to really get the most out of this tea. You can steep in free-floating but I found it a pain to strain because of all the ingredients.
Also, some of the bamboo leaves are quite long so you will need to fold them into an infuser. With all that said I think that an unbleached teabag is probably the best way to experience this tea. I find Eco-Fil Disposable Tea Bags, Available On Amazon, work the best for just about any loose leaf tea.
Closing Thoughts On Culinary Teas Bamboo Chamomile Tea
I have to say that this is one of my favorite chamomile teas on our list. I am a big fan of bamboo tea, but it is quite mild. Adding in the pineapple and cornflower really helps to bring this infusion alive. This Bamboo Chamomile Tea is a joy to drink and makes a great treat just before bedtime.
It turns a mild bedtime tea into a really flavorful and fruity blend to have just before you go to bed. You still get all the relaxing benefits of a nice chamomile tea. But it is smoothed out and refined with the added flavors and the benefits from the bamboo and cornflower.
All around one of the best tea I have had in quite some time and really rivals the Buddha Teas Sleepy Temple for my favorite on this list.
---
#3 Art Of Tea Chamomile Clementine Tea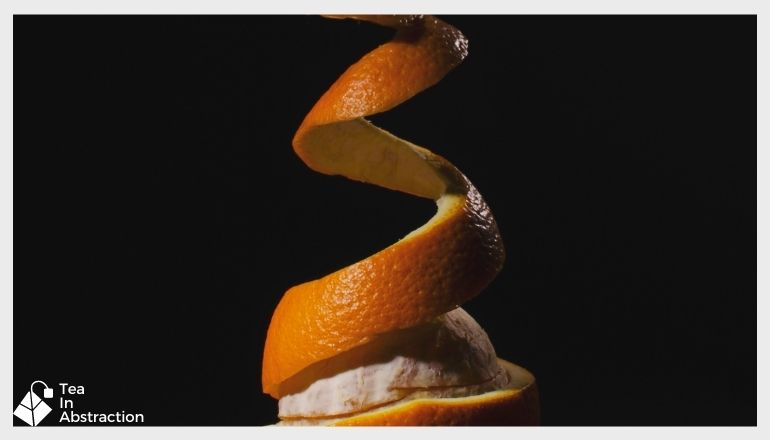 Next up on our list of great chamomile teas to drink just before you go to sleep is a citrusy offering from blended tea masters at Art Of Tea. The orange and chamomile blend known as Chamomile Clementine Tea by Art of Tea offers a brisk refreshing alternative to a standard cup of chamomile tea.
What Does Chamomile Clementine Tea Taste Like?
The flavor is pretty straightforward and includes a couple of extra tea flavors for the chamomile to contend with as well as some other natural flavors. Here is a look at the make-up of this tea.
Organic Chamomile Flowers
Organic Orange Peel
Rooibos Tea Organic
Green Rooibos Tea
And Other Natural Flavors
Pretty straightforward with the chamomile and the orange peel is at the heart of this herbal infusion.
That Mild Rooibos Flavor
I want to touch on the rooibos teas first. Typically rooibos (red) tea has an earthy, smoky, slightly sweet flavor to it. some of that comes through in this blend but I would say that the orange peel subdues it somewhat. Rooibos is a pretty mild tea, to begin with.
The green rooibos functions much the same. It is a mild tea with a slight bit of sweetness and almost no bitterness. In my opinion, it is hard to distinguish between the two rooibos teas in this blend.
I suspect they are there mostly for their benefits and the bit of added flavor and smoothness that they bring to this herbal flower blend.
The Citrus Flavor Is Very Pronounced
Even with the two rooibos teas, it is the orange peel that stands out in this chamomile tea blend. The citrus kick that the orange peel brings to the table is outstanding, although it toes the line of overpowering the chamomile.
Fortunately, it is just subtle enough to let both the floral aroma and earthy flowery taste of the chamomile tea shine. The orange certainly influences the overall flavor to a great degree and you really must enjoy that orange flavor to enjoy this chamomile tea blend. But…
But It Is Still Chamomile Tea
While the rooibos doesn't take away the floral flavor of the chamomile the citrus can in many cases if the balance isn't right. Fortunately, it is not something you really need to worry about with the Art Of Tea.
They do a great job of making sure there is a good level of consistency with this blend and that the chamomile is still front and center if with all the flavors around it.
How To Make A Cup Of Chamomile Clementine Tea
Like most herbal teas the water temperature should be around 205°F/°C. Herbal ingredients tend to be hardier than true teas, green tea in particular, so burning your tea is not really much of an issue.
Steep time should be 5 plus minutes. But the steep time is going to be a personal preference. As long as you like the taste of the tea steep as long as you like. I tend to steep around 5-6 minutes for this chamomile blend.
Finally, the amount of tea you use is largely personal preference as well. Use more of the dried tea blend for a stronger cup. I like to use about 2 teaspoons for an 8 to 10 oz cup of water for most tea. However, the steeping instructions for Clementine Chamomile tea say to use a tablespoon.
I tried the tablespoon (which is about 3 teaspoons) and think it works best for this tea. But again it is a personal preference.
This Is A Loose Leaf Tea
As you may have guessed in the previous section this is a loose-leaf tea. That means you will need a tea infuser or your own tea bags to make a cup. You can also let the tea steep free in the water but it is a bit more time-consuming to strain the tea after it steeps.
If you choose a tea bag or container be sure not to overfill it. You want enough room for the herbal ingredients to expand and release their full flavor.
My Closing Thoughts On Chamomile Clementine Tea
Chamomile Clementine Tea by Art of Tea is a great addition for anyone who loves chamomile tea just before bedtime but wants a little bit of citrus flavor added to it.
Often times many people will add a bit of lemon to cut through some of the chamomile earthiness but orange peel serves the same purpose and creates a whole new flavor experience.
This citrus doesn't take away any of the soothing sleep-inducing goodness that chamomile tea is known for so this floral citrus blend still makes our list of best chamomile teas for a good night's sleep.
---
#4 Starwest Botanicals Organic Whole Chamomile Flower
For this chamomile tea, I chose Starwest Botanicals Organic Whole Chamomile Flower. I think this brand really gives you a great opportunity to taste a full-bodied camomile tea.
The tea they send you is whole chamomile flowers, So you're not dealing with little bits and pieces of the flowers they are the whole bulbs and the pedals.
I think it makes a difference in taste when you're dealing with just chamomile tea. When you start to blend the flavors with other teas then I don't think having a whole flower is nearly as important.
This Chamomile Tea Has A Mild Taste
Chamomile tea is mild. That is just about the best way to describe it. All of the flavor notes that make it up are mild. It is a mild tea. It is still a tasty tea but it is light and mild and if you expect it to be mild you won't be disappointed.
With Floral Notes
The flowery notes are probably the most pronounced flavor in chamomile tea. And even then they are pretty mild, to begin with. This is a safe soothing tea with a little bit of flowery flavor layered over the top.
And An Earthy Flavor
The other major flavor that I think most people will taste is the earthy flavor that is common among herbal flower teas.
It is a bit more pronounced in chamomile tea. The floral flavor is much more subdued than in a rose tea, for example, which has a robust floral flavor and aroma.
With A Slightly Bitter Finish
I don't typically taste the slight bitterness in a cup of chamomile tea. But it is present enough in many people's taste experiences that I thought it would be prudent to mention it.
This is certainly not a bitter tea by any stretch but for a newer tea drinker, the finish can be a bit of a surprise.
And A Bit Medicinal
Adding to the slightly bitter taste is what I would describe as a mild medicinal or herbal flavor particlairy at the end of a sip. It is a kind of lingering flavor that reminds some people of a kind of mild cough medicine.
I personally think it is just an extension of the floral flavor of the chamomile. Nevertheless, it is important to point it out. If you expect this type of flavor it won't be nearly as offputting.
Wrapping Up Starwest Botanicals Organic Whole Chamomile Flower
Chamomile is a mild tea no matter how you spin it. However, Starwest Botanicals Organic Whole Chamomile Flower is one of the truest and most flavor of this, particularly mild tea.
You simply cannot go wrong with this outstanding chamomile tea if you want to avoid the blended chamomile teas on our list. This is a loose-leaf tea so you might need to use a tea infuser to steep it.
---
#5 Culinary Teas Chamomile Lavender Tea
Chamomile Lavender tea is going to be one of the most popular blends on our list. Both of these ingredients are often drunk right around bedtime to help get a good night's rest.
So it makes sense that lavender and chamomile would make a great pairing combining both the benefits and flavors to create an incredibly popular sleepytime tea. There are dozens of packaged versions of this blend.
But I have chosen a loose-leaf Chamomile Lavender Tea from the fine folks at Culinary Teas. Culinary Teas is a wonderful little tea shop online where you can get high-quality teas for any occasion. Let's check out their lavender chamomile tea.
What Does Chamomile Lavender Tea Taste Like?
Chamomile lavender tea is a pretty straightforward flavor experience. You have just the two flavors and they complement each other very well so you have a blend that is on an equal footing between the two ingredients.
The Lavender
The lavender is a floral, minty flavor that has a slight bitterness and earthiness to it. The mint is also subdued, especially compared to peppermint or spearmint tea.
But lavender is a part of the mint family and you do get a nice cooling sensation from it. However, the floral flavor is what really comes through when you take a sip of this herbal blend. you can check out our full lavender tea flavor profile here.
I think it is also important to note that lavender really is the dominant aroma from both the loose leaf tea and the steeped cup of tea itself. It adds a nice soothing and relaxing fragrance that makes it even more enjoyable right around bedtime.
The Chamomile
Next up is the star of our list and the co-star of this particular herbal blend. Chamomile tea is pretty subtle but the lavender respects it enough not to walk all over it.
So we get that slight fruit/apple flavor that is common with chamomile tea as well as the wonderful floral taste. There is also a slight natural sweetness in chamomile tea that helps to smooth it out a bit.
But it also has that tell-tale earthiness that is found in many flower herbal teas as well as a tiny bit of bitterness. Although the lavender helps mitigate the bitterness a small bit.
You can check out a longer look at the general flavor and all-around goodness of chamomile lavender tea right here.
Loose-Leaf Lavender Chamomile Tea
Culinary Teas Chamomile Lavender Tea is a loose-leaf herbal tea. If you prefer bagged teas then there are plenty of options for this blend.
You can also make your own bags with disposable tea bags if you don't like using an infuser. I like to use Eco-Fil Disposable Tea Bags, available on Amazon.
Get To Sleep With Chamomile Lavender Tea
When you add it all together this is a great tea to drink just before bedtime. It has all the goodness of lavender tea and chamomile and is just a wonderful tea.
Culinary Teas Chamomile Lavender Tea is the best example of this fine herbal blend in my humble opinion and I certainly recommend giving it a try.
But you will not be starved for options if you want to try another brand. Almost all the major tea brands have lavender chamomile tea in some form or fashion so you will be spoiled for choice.
---
#6 Twinings of London Nightly Calm
For this entry, I chose an interesting blend from one of the most recognizable tea companies on the planet. Twinings Of London has been around for a long time and have cultivated their well-deserved respect among tea drinkers.
And they have outdone themselves with this particular herbal blend. The flavors come thick and fast and blend into a refreshing and smooth cup of herbal tea that is a treat to drink shortly before you hit the hay.
The Flavor Of Nightly Calm Tea
To call this a complex tea is an understatement. Twining's of London Nightly Calm, available on Amazon, has a lot going on and a lot going for it. There are 9 ingredients that make up this sleepy-time tea. Here is a look at them…
Chamomile
Spearmint
Lemongrass
Linden
Orange Leaves
Orange Blossom
Lemon Myrtle
Rosebuds
Hawthorn Berries
The interesting thing about this blend is that they double up on a similar flavor note. A couple of lemon flavors, a couple of orange flavors, a few flower flavors.
It makes it difficult to distinguish between similar flavors. They blend into one flavor note from my perspective and that is how I will tackle them.
The Lemon
Lemon is first of our 2 citrus flavors in this herbal blend. I think this is really what most people will taste when they take a sip. There is certainly some nuance to the tea but lemon will dominate the flavor for most people.
The lemon flavor comes from two sources. The lemon myrtle, which I don't have much experience with, and the lemongrass. The use of lemongrass, in particular, is a very popular way to introduce a solid lemon flavor into just about any herbal tea.
And that is exactly what it does here. This is a citrus tea for all intents and purposes. Whether that is a good or bad thing is really up to the individual.
I like it and think it adds a nice variation to your typical cup of chamomile tea and works very well right around bedtime. But some might be put off by the strong citrus flavors.
The Orange
The orange flavor is pretty pronounced in this blend. I think that the lemon and the orange are on equal footing here. The flavor comes from the orange leave and the orange blossoms.
They have a distinct orange flavor but I feel like it is not nearly and potent as orange peel or the oils that come from an orange peel. This isn't nearly as potent as Earl Grey with its bergamot oil.
The Flowers
There is a lot of floral action going on in this herbal blend. The chamomile, linden, rosehips, and lavender all contribute. The rosehips and lavender are probably the most prevalent flavors out of this group.
I had a tough time picking out the chamomile and linden flavors, to be honest. I think the citrus overload was probably the cause of that. You still get all the benefits of chamomile tea just without the taste.
And The Rest
Hawthorne berries and spearmint round out the flavor profile for this tea. The spearmint adds a nice cooling sensation but it is not nearly as perceptible because of the citrus dominance in this tea.
Hawthorne berries are typically tart and slightly sweet. They have a similar flavor to rosehips in this regard. I could only taste the slightest hint of them and don't think they added much to the tea in terms of outright flavor.
Wrapping Up
I think this is a fantastic citrus tea. While it is technically a chamomile tea blend, it certainly doesn't taste like chamomile. Almost all of the mild chamomile flavor is pushed into the background by the abundant citrus lemon and orange flavors.
It still works great as a tea for sleep but you have to be prepared for that refreshing citrus zing that is the foundation for this herbal tea. Still, Twinings of London Nightly Calm, Available On Amazon, is certainly worth your time to try.
---
#7 The Tea Company Rose Chamomile Lavender Herbal Tea
Next up is a very interesting blend that brings roses and rosehips into the classic lavender and chamomile tea blend. I think it works well for the most part.
I will say that you need to be a fan of rose or rosehip tea for this blend because the rose flavor is very pronounced and will be a problem if you do not that that flavor.
What Should Rose Chamomile Lavender Tea Taste Like?
The Tea Company Rose Chamomile Lavender Tea, available on Amazon, is a floral extravaganza. All three ingredients bring their own level of flowery goodness to this herbal blend. Here is a look at the flavors in the herbal infusion.
Chamomile Flowers
Lavender Flowers
Rose Petals
Rosehips
All of these ingredients are organic.
The Roses
I think it is best to start with the rose petals and rosehips in this blend because they have a great influence on the overall flavor of this tea.
Rose petals and rosehips have a different flavor profiles. Rosehips have a flavor that is closer to hibiscus flowers than rose petals.
They are tangy with a slightly sweet fruitiness to them. You can taste the art tanginess of the rosehips pretty well in this blend.
The rose petals are pungent and they shine through in this blend. The lavender and chamomile help to counteract the rose flavor but it is still the dominant taste.
The Lavender And Chamomile
Both of these flavors play their part in this complex herbal blend. The lavender has a soothing mint and floral flavor that compliments the rose quite well.
The chamomile brings its slightly sweet and fruity floral flavor to the proceedings and helps smooth out the rose flavor.
The rose taste can be a little too much for many tea drinkers so it's great that the lavender and chamomile are there to balance everything out.
A Loose-Leaf Blend
This another loose-leaf blend for everyone to try. break out your infusers or teabags and put them to good use steeping a cup of this floral delight. If there is a bagged version of this tea with the exact ingredients I was unable to find it.
The Wrap Up
Another interesting herbal blend that will get you in the mood for a great night's sleep. The roses are the focus here and they bring a wonderful aroma and flavor to the tea.
It is the aroma, in particular, that is incredibly relaxing. Just breathing in the floral notes whisks the stress away and puts you in the right frame of mind for a great night's sleep. The Tea Company's Rose Chamomile Lavender Herbal Tea is available on Amazon.
---
#8 MMTUM No Stress Tea
MMTUM No Stress Tea is a bit of an anomaly on our list. It is not so much a premade tea as a tea kit that you can craft however you want.
One of the Cool things about the No Stress Tea is that each ingredient is individually packaged. You can add all of the herbs to your chamomile tea or mix and match at your leisure.
The No Stress Tea Flavor Profile
You control the amount of each ingredient so if you want a little more smooth licorice root you can make that happen. Here are all the organic ingredients included in this DIY tea kit.
Assam Valerian Root
Hawthorn Berry
Lemon Balm
Licorice Root
Chamomile
Spearmint
Lavender
Passion Flower
While the choice to make your tea exactly how you like it is great it does pose a problem for the flavor profile. There are simply too many variables to try and give you an accurate idea of what this tea will taste like.
It will definitely have a flower, slightly sweet chamomile flavor and then everything else is up in the air. Want some mintiness in your tea before bed? Add a little spearmint. Want something citrusy before you nod off? Add some lemon balm to your infusion.
I am sure someone can come up with exactly how many different combinations there are with these ingredients but mathematics was never my strongest suit.
Suffice to say that there are plenty of them and each one will have its own distinct flavor profile. You can find the MMTUM No Stress Tea Kit right here.
Wrapping Up The No Stress Tea Kit
Making a cup of your own chamomile tea with exactly the flavors you want in it right before bedtime is a cathartic experience. Whatever mood you are in on any given day can be reflected with this tea kit.
Typically I just buy the teas I want and then mix them. But that is expensive and you have a lot of tea sitting around that may never get used.
The beauty of this idea is that there is enough tea for about 100 cups. Plus you don't have to buy a ton of bulk ingredients that might go to waste. The No Stress Tea Kit is a fascinating prospect and one that I think many of you will enjoy.
---
#9 Buddha Teas Organic Chamomile Tea
Our second pure chamomile tea comes to us from the wonderful folks over at Buddha Teas. The Buddha Teas Organic Chamomile Tea is one of the best around. It continues the Buddha Tea's legacy of wonderful herbal teas from flowers to seeds to root herbal teas.
What Should Chamomile Tea Taste Like?
The flavor is very similar to most other quality chamomile teas. You have a slightly sweet floral flavor with a touch of fruit or apple flavor mixed in it. The fruit flavor tends to be quite subtle.
There is also a bit of earthiness in Buddha Teas Organic Chamomile Tea, which is very common for this type of tea. A slight bitterness can also be detected but it is pretty minimal. For a more expansive look at the flavor profile of chamomile tea check out our article here.
Loose-Leaf Chamomile Tea
Buddha Teas Organic Chamomile Tea is a loose leaf tea. I find that it steeps well in an infuser or a disposable teabag. you can also let it free float as the chamomile flowers are pretty easy to strain out of your tea.
They do have a bagged version if that is more your style. I find both to be similar in terms of flavor and drinkability. If you want a more convenient cup of chamomile tea, check out Buddha Teas Organic Chamomile Teabags.
Final Thoughts
There is really not much to add for this entry on our list. I think this and the Starwest Botanicals Organic Chamomile Flowers are pretty close to each other in taste.
The bottom line is this. If you are looking for solid great-tasting chamomile tea to drink just before bedtime you are going to love Buddha Teas Organic Chamomile Tea.
---
#10 Buddha Teas Organic Calm Buddha Blend
Another entry from the fine folks at Buddha Teas. They do make some interesting blends and I am a big fan of many of their herbal teas.
The thing is they have some outstanding chamomile blends that are ideal for a relaxing bedtime tea and as a result, they have 3 spots on our list. The final being Buddha Teas Organic Calm Buddha Blend.
A robust blend of 7 flavors that is sure to delight your taste buds and send you wistfully off to slumberland. Let's take a look at the flavors involved in this herbal blend.
The Organic Calm Buddha Blend Flavor Profile
Where to begin with this flavor profile. Buddha Teas has really outdone themselves with this herbal blend. Technically it is a chamomile tea blend but I wouldn't call it the star of the show.
Here are the organic flavors that you will find in the complex and flavorful herbal blend.
Chamomile Flowers
Passion Flower
Skullcap
St. John's Wort
Spearmint
Lavender
Cinnamon
Even with all these flavors, I would still characterize this herbal blend as pretty mild. I think they got the balance just right to make a flavorful blend without going overboard and drowning out the chamomile tea base.
Let's Dive in a little deeper and break down some of the flavors you will experience with this herbal blend and some that you will probably not taste that much.
St. John's Wort And Skullcap
I had a hard time detecting either of these flavors. They tend to be a bit bitter and earthy. On their own, they make a fine cup of tea if you enjoy the flavor but here they are pushed to the background.
I think they are part of this blend for their wonderful benefits, particularly their stress-relieving and relaxing nature.
The Passion Flower
Passionflower tea is surprisingly mild. The flower is gorgeous but the flavor is somewhat lacking. This is another flavor that really gets pushed back and is included because it is another tea that helps manage stress.
The Chamomile Flavor
Moving on to the chamomile. we are started to get to the really flavorful part of this blend. You can taste the fruity and flowery chamomile. But it is not as pronounced as some of the other blends on our list.
Chamomile is satisfying and will help you get a good night's sleep but it will not be the most potent flavor in this herbal blend.
Lavender And Spearmint
Two mints, two wonderful additions to this blend. Spearmint brings a cooling flavor that lingers on the tongue and lips with each sip. It is one of the more noticeable flavors in this complex blend.
But not to be outdone by its minty cousin, the lavender brings a slightly soothing mint as well as its unmistakable flowery flavor and aroma.
Nothing in this blend really stands head and shoulder above the rest in taste, but you can definitely pick out the lavender aroma.
The Cinnamon
Finally, we move onto the cinnamon. I don't think they went overboard with this flavor. It is easy to overwhelm the rest of the blend with something as flavorful as cinnamon.
The spicy flavor of the cinnamon adds a nice layer to the minty fruity flavor of this blend. It is a good addition and one I would not have even thought about.
A Bagged Chamomile Blend
Like most Buddha Teas offerings, the Calm Buddha Blend is a bagged tea. The flavor is still top-notch and for a tea as complex as this one the bags are great.
They are convenient and don't affect the taste at all. The teabags are bleach-free, making them ideal for a quality cup of tea every time.
Wrapping Up Calm Buddha Blend
This is one of the most complex teas on our list in terms of flavor. There is a little bit of mint, the fruity chamomile, and a touch of cinnamon to boot.
They really packed a lot of flavors into a little bag of tea and it all works. I don't think this is something that I would have ever tried on my own. It's nice to see something this interesting in a chamomile tea blend.
---
The Big Finish
That wraps up our look at some of the best chamomile teas to drink before you go to sleep. I focused mostly on chamomile blends because I think they bring so much more to the table than a standard cup of chamomile tea.
Herbal tea blends are really what makes me love being a tea-drinking. Finding new and interesting flavors to add to old classics is fun and typically results in some pretty great-tasting herbal infusions.
Some blends are pretty straightforward like lavender and chamomile tea but some are out of the left field like the excellent Bamboo Chamomile tea. It all adds up to my favorite chamomile teas and blends for you to try before bedtime.
But this is my list and just my recommendations. Experiment. Grab some loose leaf chamomile flowers and start adding some of your favorite herbs to it. Who knows what you might come up with.
Thanks for visiting and have a wonderful day.