*This Article May Contain Affiliate Links* See our Affiliate Disclosure for more Info
As much as I love drinking tea, I don't get a whole lot of enjoyment out of rating it. Reviewing it is fine. Explaining the flavors I taste in a tea or describing it to someone is fun and interesting.
But outright rating it is a different story. Still, I think it is only fair to tell you why I like this particular brand of tea over another and putting an easy to understand number next to it.
This is just my opinion and many of you will have your own favorite brands and teas. So please view this as strictly my personal opinion.
But in this case, I will review and rate Buddha Teas Lavender Tea. Read on to see if you agree with my assessment of their lavender tea offering.
Quick Look At Buddha Teas?
Buddha Teas is an online retailer of fine loose-leaf and bagged teas. They have a huge selection of all manner of teas including one of the finest varieties of herbal teas available on the internet.
Their teas are typically high quality and have a good price point. They do lean quite a bit towards bagged teas which might turn some people off. I rate them as a top 5 source for buying tea online.
Quick Look At Lavender Tea
Lavender tea comes from the flower of the lavender plant. The vibrant purple flowers grow in fields that are stunning to look at.
They are part of the mint family of plants and have a slightly minty flavor when eaten or steeped as tea.
Lavender has been used for millennia and was prized in ancient Rome for a variety of medicinal purposes and as bathing oil and perfumes(source).
---
Quick Refresher On the Scoring
For this review, I will be looking at their lavender tea offering and rating it in our usual 5 categories.
Criteria Recap
Taste – How well the tea represents the type of tea
Aroma – How well the aroma of the tea enhances the experience
Packaging – the overall packaging of the tea
Tea Leaf Quality – The quality of the tea, or flower, in its dried raw form
My Overall Enjoyment – This is my personal opinion on the tea. Purely Subjective.
---
How Are Taste And Aroma?
Buddha Teas Lavender Tea is a very good example of this herbal tea. And it is one of my favorite lavender tea that I have tried up until now.
Granted my experience with this tea is limited to only a few brands at this point but I can safely say that this one comes out on top as of right now.
The taste of Buddha Teas lavender offering is pretty robust. It has a very pungent floral taste and a slightly minty flavor to it.
You can check out my article on the full flavor profile of lavender tea in general right here.
The aroma is delightful as well. The strong floral notes are going to hit your nose from the time you open the box to the first sip and beyond.
The wonderful floral fragrance before each sip really adds to the overall experience of drinking this wonderful tea.
---
How Is The Packaging?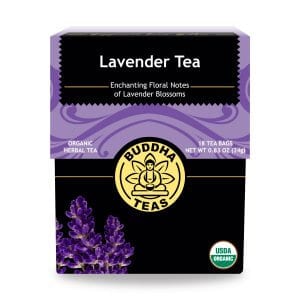 I like Buddha Teas packaging in general. There is a consistency to it that makes you feel very confident about the product.
The boxes look very similar to each other with only the color and the tea information really being different.
Lavender comes in a nice purple box as you would expect.
The bags themselves are not that bad either. They are always bleach-free and work well for infusing a cup of tea.
Unfortunately, Lavender tea does not have a loose-leaf counterpart available at Buddha Teas. It is disappointing but there are only a few flower herbal teas that have a loose-flower option.
---
Quality Of The Lavender Tea Flowers
This is always a tricky criterion for a bagged tea. Typically you are going to find that the flowers are a little more compacted when they put them into tea bags.
This means you are typically not going to get full flowers like you would with a loose-flower tea.
It is one of the major drawbacks of a bagged tea over a loose-leaf or flower tea. This is especially true of herbal teas, where you typically have a larger flower, leaf, or root for your teas.
So breaking open the bag we find that the flowers are in pretty good condition and do a fine job of infusing your water.
Still, I would like to see Buddha Teas have a loose-flower version of their lavender tea available in the future.
This is probably the weakest part of this tea.
---
My Enjoyment Of Buddha Teas Lavender Tea
I thoroughly enjoyed this Buddha Teas Lavender Tea. The flavor of this tea is pretty robust. I was able to use the tea bag a couple of times and still get a nice cup of tea out of it.
I would not recommend going past two steeps with the brand of lavender tea, however. The fall-off in flavor is way too steep, for me anyway.
Overall, I really enjoyed drinking this tea and can whole heartily recommend it to anyone looking for a good herbal tea. Speaking of which you can find some of our other favorite flower herbal teas in our article here.
The Finish
There are plenty of options out there for lavender teas. I just feel that Buddha Teas does this type of herbal teas very well.
The infusion is fantastic on its own, but you can blend it with numerous other teas and infusions to craft your own perfect cup of herbal tea.
Especially for a bagged tea. If you are looking for a loose-flower lavender tea then you will need to find an alternative.
But I am trying out some great contenders that I will be working on for reviews in the near future.
For now, though, I can confidently say that this is my favorite lavender tea and I recommend it to anyone who is looking to try this wonder flower tea in the near future.
---
Thanks for stopping by and have a wonderful day.