*This Article May Contain Affiliate Links* See our Affiliate Disclosure for more Info
Green Tea is one of the most popular beverages in the world. Even among teas, it is becoming increasingly more popular. Green tea still trails black tea for overall popularity. But for the health-conscious drinker, green tea is much better regarded than black tea.
All true teas come from tea leaves, but the production and growth of those tea bushes oftentimes determine the type of tea that is produced. So while a country or region might be renown for its tea it may be for a black tea or an Oolong tea.
For this article, the focus will be solely on green tea. So where is green tea grown?
Green Tea is produced in many different countries and regions around the world. Asia is the most common area that produces green tea but there are a couple of unique regions in Europe that actually produce green tea as well.
Tea, in general, is incredibly popular around the world. It is second only to water in its popularity. It has become increasingly popular in the United States as well.
Please join me on this little trip through some of the green tea-producing regions around the world. I hope you enjoy it and find it helpful.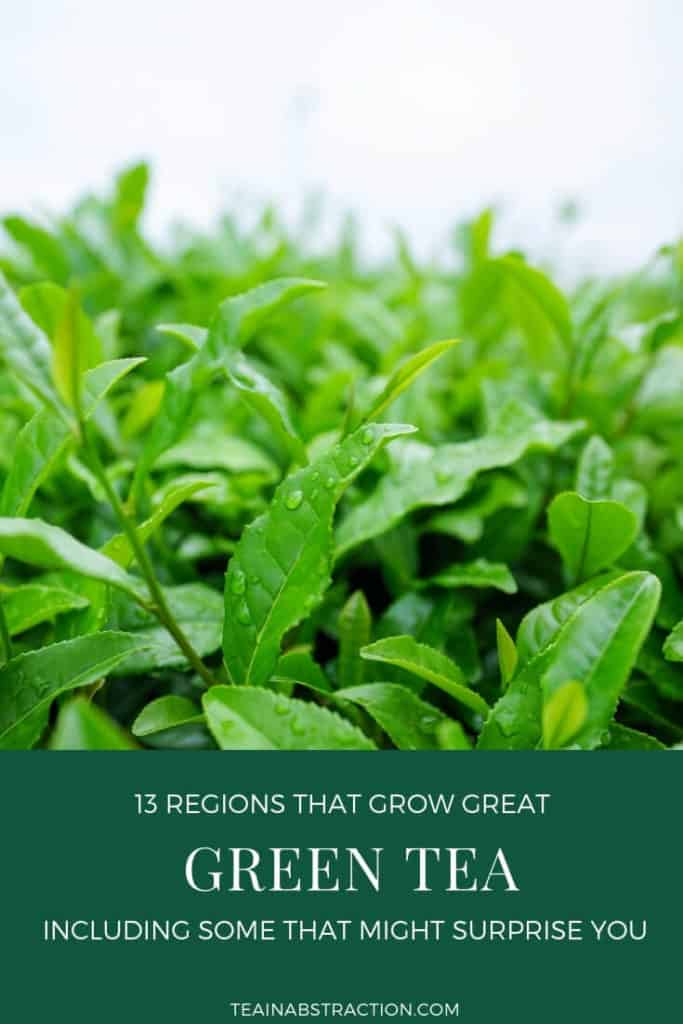 ---
China
The vast majority of green tea is processed in China each year. Overall China is the world's largest tea producer, not just for green tea but for all variations of true tea. China has its own distinct varieties of green tea that it produces each year.
China green tea tends to have less of a grassy flavor that is common in some green teas from other regions. What is interesting about Chinese green tea is that there is no standardized brand or type.
"The hundreds of different types of tea drunk by Chinese people mean it's not possible to develop the Chinese tea industry into a company like Lipton's, which is standardized with no difference in quality," said Wu Xiduan, general secretary of the China Tea Marketing Association (CTMA)
It is this diversity that gives Chinese green tea a good deal of its character and uniqueness since each type of green tea brings something special in its own right.
---
India
Next up is India. They are the world's second-largest tea producer but they are ways down the list when it comes to green tea. Most of their tea farms are dedicated to black tea which is a more popular overall tea around the world.
India has quite a few teas-producing regions including Assam, Darjeeling, and Karnataka.  Much of the green tea production occurs in the areas around the Himalayan mountains.  Many Indian tea companies are well-known around the world. 
---
Japan
Japan's green tea is renowned worldwide. From their incredibly popular Sencha to their unique and fantastic Genmaicha, this one from Buddha Teas is outstanding, all the way up to their delicate and prestigious Gyokura, there are dozens of great green teas from the island nation.
One of the biggest reasons green tea is so prominent in Japan is the ideal climate to grow the tea plants there. Everything from the soil to the amount of water and sun is crucial to growing green tea, and many regions in Japan are perfectly suited to grow this wonderful tea.
Japan has also mechanized some of its tea production making it better equipped to deliver large amounts of its popular Sencha green tea, which accounts for about 80% of Japan's Green tea production.
---
Korea
Our next stop on our journey through the top Green Tea producing countries is Korea. Korea has had a bit of a rough history with its tea due to the geopolitical influences for much of the 20th century. But Korea has pulled through as is back to producing a good amount of some great green teas.
Most of the tea grown in Korea is grown far to the south in the South Jeolla region and on the Jeju island of the coast of southern South Korea. The major reason for this is the climate in the south. It is subtropical with a very rainy wet season that allows the tea to grow quickly and be harvested before the drier months.
Even with this good climate and growing season, Korea does not produce a huge amount of green tea, trailing most of the other countries on this list in terms of overall production.
---
Indonesia
Indonesia is next on our list of green tea producers. Indonesia is much more well known for its black tea production. But it does produce some green tea as well, although it is considered rarer than its Chinese counterparts and much rarer than Japanese Sencha.
Very little of the mainstream green tea is going to come from Indonesia due to this rarety but it is possible to find some great examples of Indonesian Green Tea online, here is a great Indonesian Jasmine Green Tea at Amazon (*affiliate link) and in some specialty stores around the world.
---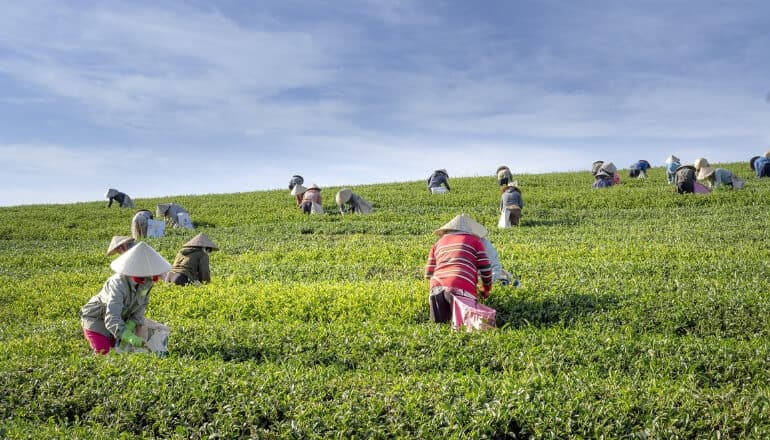 Vietnam
Vietnam is another great region to find some very good green tea. Green tea is the most popular type of tea among Vietnamese, accounting for about 63% of all the tea consumed in the country.
While not as widespread as Japanese or Chinese green tea, Vietnamese green tea is still fairly easy to find online and in some tea shops that you might have locally. Amazon has a couple, like this Vietnamese Green Tea, (Affiliate Link) for sale.
With some persistence and a little luck, you can find some great examples of Vietnamese Green tea and decide for yourself if it was worth the effort.
---
Georgia
Georgia might seem like a bit of a surprise to be on the list of green tea producers. They do not export a ton of it and it can be very difficult to find. But I felt that adding them was important given they are one of the few places in Europe that produce green tea.
Plus, their tea industry has had some very rough times since they gained their independence. Georgia is only recently beginning to build its tea industry back up again. So it seemed fitting to put them on the list, and hopefully, they will continue to grow in the near future.
As of the publishing of this article, I had very little luck finding their tea online. keep an eye out for these regions' green tea in the future, however.
---
Other Regions
There are a few other places around the world that produce some green tea. While the amount is a far cry from China or Japan, these smaller green tea-producing regions each have their own unique take of green tea and are worth checking out.
These include:
Turkey
Sri Lanka (Ceylon green tea)
Kenya
Burma
The Azores Islands off Portugal.
The teas are pretty difficult to find internationally in any large numbers, but you can find them if you dig deep enough and many of the specialty tea shops have some products from these regions.
---
The Big Finish
Green tea, tea in general, is an integral part of the economies of numerous countries and regions. Green tea only makes up about 22% of all the tea grown but its popularity is incredible. Especially among the health-conscious drinkers.
I apologize if I missed a region that produces green tea. Please let me know in the comments and I will get to work researching it right away and add it to the list.
Each region that produces green tea gives its own unique take on this delightful beverage.  No two regions are alike.  So when you ask a simple question like where is a green tea grown.  The answer is far from simple.  Each region has many types of green tea, each type has its own unique characteristics.
In the end, there is only one way to know what region produces your favorite type of green tea.
Try them all and let your taste buds sort them out.
---
Thanks for visiting and, as always, have a wonderful day.